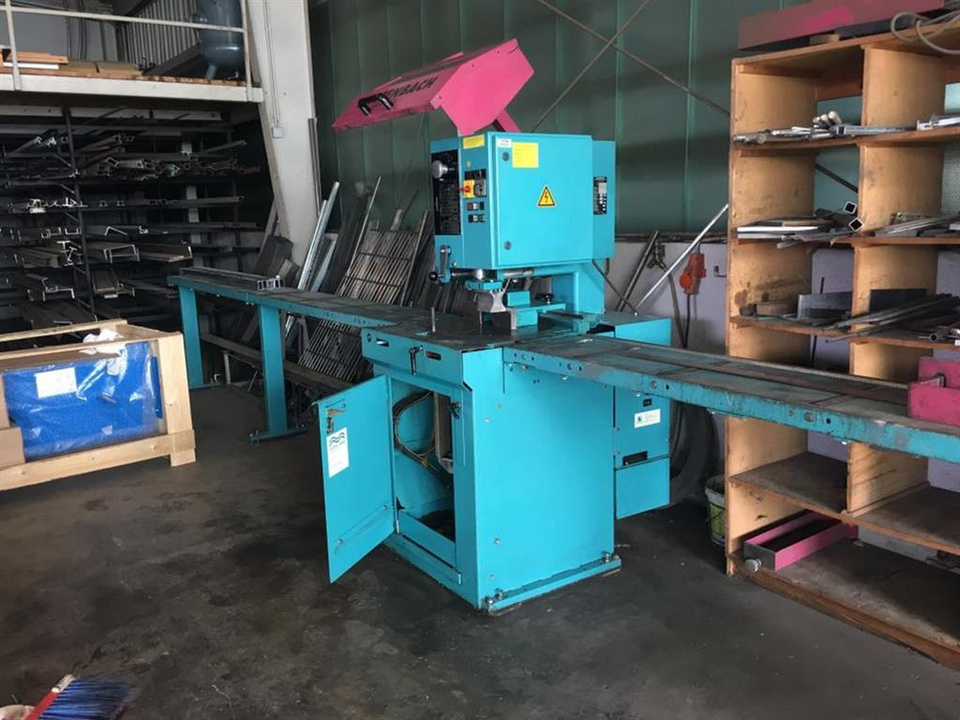 back to Sawing
Machine already sold
This used machine is already sold. You are interested in this type of machine? Please send us your inquiry! We will get in touch with you as soon as a similar model is available.
Stock number:
1130-0101-200030
Delivery time:
on request
Freight basis:
ex works incl. disassembling
Item location:
Deutschland
Description of Kaltenbach KKS 400 E
Kaltenbach KKS 400 E Semi-automatic underfloor circular saw.

The KKS400 circular saw is used in steel and aluminium construction for sawing flat steel, angle and solid material as well as tubes and special profiles. It is designed for single cuts as well as smaller series.
The Kaltenbach KKS 400 E automatic sawing machine has a rotating sawing table which can be swivelled +/- 90 degrees.
A roller conveyor on the infeed and outfeed side with a length of 2m each is part of the offer as an accessory. Profiles can be sawn with a manually adjustable fixed stop with corresponding repeat accuracy.
On the Kaltenbach KKS 400, the saw blade with a diameter of 400 mm and width of 5 mm works from bottom to top, with the component being fixed on the saw table by a vertical clamp. The saw blade is cooled by spraying the saw blade under the work table The clamping pressure can be adjusted to the component. The Kaltenbach KKS series is used all over the world and has been in reliable use for many years. This means that both service and the procurement of any spare parts that may be required can be carried out by various service providers, including the manufacturer Kaltenbach or the company Profiltec from Lörrach.
: 400 mm
: 5 mm
: 0 - 1000 mm/min
: +/- 90° mm
: 50 mm
: 1,7 kW
: 850 kg
: 120 x 120 mm
: 300 x 40 mm
: 130 mm
: 6000 x 1200 mm