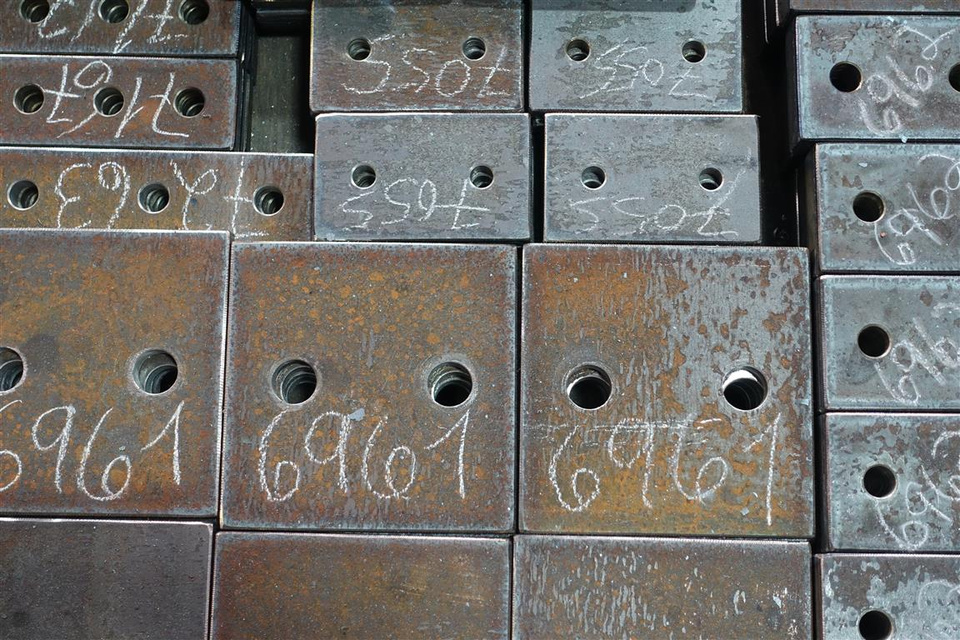 back to Drilling + Burning
Machine already sold
This used machine is already sold. You are interested in this type of machine? Please send us your inquiry! We will get in touch with you as soon as a similar model is available.
Stock number:
1130-0401-150051
Delivery time:
ca. 2 Weeks
Freight basis:
ex works incl. disassembling
Item location:
Cologne
Description of Kaltenbach WBZ 1500
Kaltenbach WBZ 1500 Plate processing center for base plates, top plates, gusset plates, ribs, flanges etc. in the steel construction industry
The used CNC controlled sheet metal working center for drilling and burning operation in one machine is available from Nenok in Cologne.

With the Kaltenbach Plate processing center, the operator has a multi-functional system for steel processing in the steel construction and steel trading Industry. With this CNC controlled system you achieve high flexibility and profitability for your sheet metal production.
With the Kaltenbach WBZ 1500, you need only one machine operator for the full set of funktion like: drilling, countersinking, thread cutting and flame cutting of sheet metal, sheet metal strip and flat steel. The production of head plates, foot plates and gusset plates is getting economical.

The functionality of the Kaltenbach WBZ 1500 is as follows: First, the contour data is read into the CNC control manually or by transferring CAD data in DSTV format. The controller accepts the generated data and converts it into machine commands so that the positioning axes can approach the desired drilling or cutting torch positons. Thereafter, the metal sheets or flat steel are placed in their initial length. The length measuring device comprising a sliding and pulling gripper carriage is possitioning the workpiece (the plate) first for the drilling process and then for the burning process under the gas cutting unit. The finished components are then suspended or labeled directly by the machine operator and made available for production.

Technical description of the WBZ 1500:
Plate width: min. 100 mm, max. 1,500 mm
Plate thickness: min. 8 mm, max 50 mm
Plate length min. 500 mm max. 6,000 mm
Max. Piece weight 1,500 kg
Tool changer with 5 tool positions
6 m infeed roller table with measuring carriage
as an option, there are 4 cross tractors chain dragging system on the infeed side
Drilling unit suitable for HSS oil feed drill from Nenok
Drilling capacity Ø 10-40 mm
7 spindle speeds, frequency controlled 100-600 rpm
Spindle stroke 350 mm
Rapid flow / return 5000/8000 mm / min
Drilling feed 0-200 mm / min
Feed force max. 20 kN
Torque max. 300 Nm
Oxyfuel cutting unit

Supply Roller conveyor for infeed
Length approx. 6300 mm
Working height 640 mm
Rolls 15 pcs
Roll diameter 110 mm
Roll width 1550 mm
Vertical guide rollers 8 pcs

Outfeed side
Length 2000 mm
Rolls 11 pcs
Roll diameter 98 mm
Roll width 1550 mm

drive power
Drilling motor 7.5 kW
Positioning drive / spindle 2.8 kW
Positioning drive / measuring carriage 2.8 kW
Hydraulic motor 4.0 kW


Plant Dimensions
L x W x H 13500 x 3700 x 3000 mm
Weight (without accessories) 6800 kg
Sheet metal size max. 1500 x 6000 mm

Upon request, Nenok will provide you with the professional dismantling and assembly as well as the machine service and spare parts for ongoing operation.
: 50 mm
: 40 mm
: 10 mm
: 7,5 kW
: Oxyfuel cutting
: 4,0 kW
: 6,8 t
: 1500 kg
: 1500 mm
: 6000 mm
: 5-fach
How does the machine get to you?
Are you concerned about the disassembly and loading, finding the right forwarder, customs clearance or shipping abroad? We have been familiar with the procedures for decades and know what to do.

We are happy to take care of the entire process so that the machine finds its way to you safely and quickly - at a fair price.
Further information on shipping